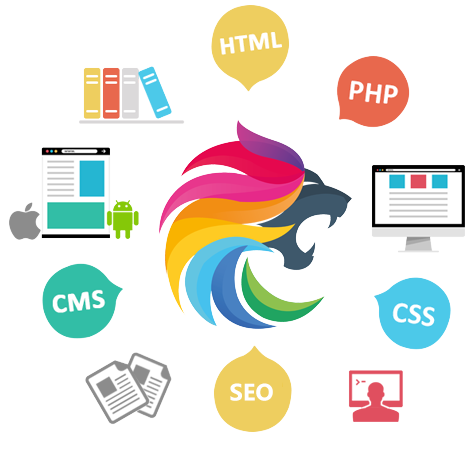 We provide perfect package for you We provide hassle free IT services, "We make your vision into reality."
Lion Vision Technology is a Professional & Offshore Web Development Company having Channel Partners over the Globe. It Offered with the most expert and propelled assets, we bring the most palatable results for your offline and online business.
Our strong dominance in Web Design and Web Development Services right from Custom Logo Design to Responsive Web Designing, making progress to Custom Web Development empowers us to convey most elevated quality services that suits to your business growth.
Our Services incorporates every single locale of Website Development, E-commerce Website Development, WordPress Website Development, Web Application Development, Web Design, Graphics Design,  Mobile Application Development, Search Engine Optimization (SEO) & Digital Marketing Services, Social Media Marketing (SMM), Content Writing, Pay Per Click Management, Email Marketing, Magneto Development, Woocommerce Development. We are serving our customers with imaginative thoughts and elegant design that too at extremely reasonable cost.
If you are keen to take your business to the new levels with the help of a highly appealing and effective Web Hosting then do not hesitate to Partner with Us, and start reaping rich dividends in a short while.
We're a team of specialist extending a helping hand in building impressive solutions for you.
GOOGLE 360° STREET VIEW 360° Virtual Tour
Lion Vision Technology Is Provide 360° Street View & Virtual Tours Of Your Business Across Google Searches, Google Street View & Google Local Services In Ahmedabad, India.
We'Re A Team Of Specialist Extending A Helping Hand In Building Impressive Solutions For You. Google Street View And 360 Degree Photography Will Increase People Trusting Your Business And Will Result To Get New Business.
Our Primary Service Is Creating High Quality 360° Panoramic Images, Google Business View "Street View" Virtual Tours And Custom Coded Virtual Tours For Business Located In Ahmedabad, India.
SERVICES OF LION VISION TECHNOLOGY
Logo Design
For Any Company To Have A Successful Take-Off, It Is Vital To Pay Attention To Its Logo Design And We works with your imagination and we make it live with our experts.
Web Design
Lion Vision combines skill, understanding, knowledge, talent and experience to produce cutting edge visuals in web design.
Software Development
We use many platforms for website development, like HTML, CSS, PHP, .Net, Wordpress, and Magento. We focus on clients' requirement and developed for the web site.
Mobile Apps
Your innovative business ideas are converted into Intuitive, Appealing & perfect eye catching UI design for Android and iPhone mobile application development.
Search Engine Optimization
We provide quality Organic Traffic and top 10 ranking in "Search Engine" (like Google, yahoo, Bing, etc.) through organic search results at targeted Keywords.
E-Commerce Services
We offer E commerce website development services that are very gainful, well intended to outfit your business objective up to the mark and then earns are even better.
360° Virtual photography
360° & 3D product photography providing essential visual information to make customer experience solutions and gives more confidence to your customer.
Server Level Protection
If a major vulnerability appears, we develop & apply server-level security for Windows and Linux servers while keeping them running at peak performance.
Domain Registration & Hosting
Reliable web hosting and Domain registration service Provider Company in India. We offer domain registration & hosting services with unlimited hosting space, bandwidth & email accounts at affordable rates.
how to build your website Online Today?
Create your own website with our Web site builder
EASY TO USE - build your professional site simply.
HUNDREDS! of customizable designs, media contents.
FREE domain, hosting, database, FTP account and business email.

Starting at Just $2.99 only.
Easy Create, Manage & Sell. Online Store
GET MORE CUSTOMERS with built-in SEO tools.
SHIP ANYWHERE with flexible rates.
SAVE MONEY with free hosting and unlimited bandwidth.

Starting at Just $19.99 only.
WHY CHOOSE LION VISION TECHNOLOGY?
More than 200,000 websites hosted
get your website online today