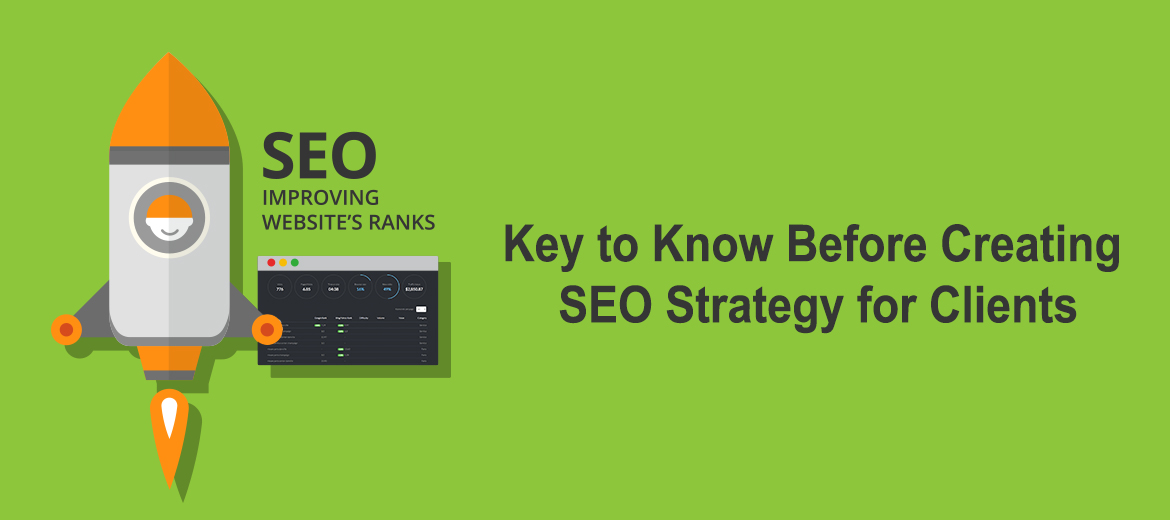 Key to Know Before Creating SEO Strategy for Clients
A new client opens up a world of new possibilities, and more so when it is on the lookout for a stirred up digital marketing campaign that can be run India ! After all, this is a full blown opportunity for an SEO company in Ahmedabad, India to transform an upcoming city business into a raving nationwide success. However, before you start with the challenging job of designing an SEO strategy for your client, here are 5 things that you must know about them.

1. Purpose of the Website
It is depending on the purpose of the website that you will design and add pages accordingly. Is it for generating sales? For creating brand awareness? For sharing information? Each type of website will mean a different design. E.g. an e-commerce website will need product listings and a shopping cart, a website mainly aiming to create brand awareness will need a lot of information, articles and blogs.
A purpose points out what you want your website to do and you can start designing accordingly.
2. A Visual Representation
Once your strategy becomes more concrete, you will need a more in depth and professional document than your mind map.
Keep in mind what a strategy is: a plan.
That means you have goals, specific tasks attached to those goals, some tasks that have to come before others, recurring tasks that will need to be iterated and honed, and subtasks that will become more numerous and specific as time goes on.
You need to be able to present all of this quickly and easily to your client and your teams, and you need to do so in a format that is simple enough for all parties to understand, as well as edit.
You can use Google Sheets, Trello, Workzone, Basecamp, or whatever you prefer. The specific tool isn't as important as your method for using it.
It must be immediately clear to all parties about how to read the plan and make changes if needed. It must also be clear:
Which task is assigned to whom.
Which tasks follow the first.
Which tasks are recurring, planned, in progress, and finished.
3. An Understanding of the Company
Whether you're an in-house or outsourced SEO, you need to have a solid understanding of the company in order to make any SEO strategy successful. You need to know what strengths you can leverage in order to get the most SEO value, what tactics will work best for the brand identity, and what is standing in your way.
Here are some of the most important factors you should consider as you develop your strategy:
What is the product's unique selling proposition?
We may be referring to a line of products or a single product, but whatever the case may be, we need to know what makes our company different in order for any strategy to work. This will strongly impact the types of outreach that will make sense, the type of audiences we will want to cultivate, the type of keywords we will be tracking, and much more.
What is the company's vision?
We need to go deeper than knowing what industry we are in and that we want to be profitable, if we want to generate the kind of waves that affect visibility in the search engines. Dig deep into that vision statement to look for ideas that will guide your strategy goals and metrics. If your vision statement isn't doing that for you, you might want to consider developing a new vision statement for your own campaign, which serves the purpose.
Where is the company really hurting right now?
This is one of those things that might seem like you can avoid early on, but will always creep in and decimate an SEO strategy (or department, or partnership) if it isn't annihilated. Understand what the company really needs to see and really can't accommodate before you commit to a strategy.
4. An Understanding of the Audience
You need to know who your audience is, and that means a great deal more than just what keywords they're searching for.
Here are a few things you need to determine, either by talking to your client, surveying your audience, browsing some relevant internet hangouts, or all of the above and more:
How accepting are they of marketing, upselling, and so on?
If you've ever consumed anything in the self-help industry, you might have noticed how comfortable "gurus" in that industry are willing to upsell their audience, even spend a dedicated portion of a paid presentation for advertising their other products. Alternatively, if you've ever spent any time trying to link to anything of your own on Reddit, you know that they are hypersensitive to any kind of promotion at all. This is something you need to be highly aware of as you develop your strategy.
What is their level of knowledge?
Are you talking to people who know everything about their subject matter and will laugh off anybody who try to share introductory material? Are you talking to people who are completely oblivious to industry jargons?
How close are they to the industry?
Is your audience consumers (B2C) or businesses (B2B)? Will these people be intimately familiar with your industry, or almost entirely outside of it? Are they interested in understanding more about the industry, or do they care solely about how your products can benefit them?
5. Precise Goals
For a goal to be useful, it needs to be precise, and for it to be precise, we should be focusing more on the working parts and how they fit together than on a particular dollar amount.
We need to be deliberate when we choose our metrics and KPIs.
Yes, we want revenue to go up faster than costs, and yes, it can be useful to set a financial goal. We certainly should be setting goals that have time limits.
However, a strategy is about achieving goals that have a specific impact on the company, its direction and future, and the way that the business itself functions. That means our metrics should reflect what is happening with the working pieces themselves. This could mean links and authority, it could mean rankings, or it could mean organic search traffic.
The point is, everybody should agree on what metrics make sense and why.
I strongly believe in the value of task-oriented goals over KPI goals. This is because, especially when it comes to inbound marketing and SEO, our impact on KPIs is indirect. For this reason, I believe in setting goals for projects, living up to those goals, then measuring the impact and adjusting the strategy in response.
6. Current Standing
If you wish to formulate an effective SEO strategy, the first thing you must concentrate on is your client's present position. Do they need to create brand awareness, or are they looking to instigate the public's interest in their offering! They can also be working towards making their product desirable, or simply wish for a higher response on the call-to-actions. Understanding the client's short term goals must be your priority.
That being done, you can go head to discuss their long-term objective. One client might be inclined on a good ROI, while the other may wish to build a strong communication strategy. Getting a fair idea of your client's intentions will not only help you as an agency go a long way in delivering competent SEO services in Delhi but almost anywhere across the country!
At this point, it can also prove to be helpful to take a sneak-peek into the available data regarding website engagement and organic reach.
7. Limitations
For an eCommerce website, prolonged shipping time can be a limitation. For a general website, the incoherence of content can be one. For someone in a common trade, industry competition might be pulling the business down. Whatever is it that you client lags in the business model can be made up for in the digital marketing strategy! The key here is to know the shortcomings in advance and act upon them before they blow up.
8. Competition
Check if the client has competitors. If so, see how they are performing both online and offline. It can help to understand their strengths and weaknesses, both in terms of business model and with respect to SEO strategies. At this point, make sure to pay heed to aspects like linking structure, content marketing strategies and social media optimisation.
Then again, see if your client has a USP which can help gain a competitive edge. Make the most of this information and design a strategy accordingly.
9. Partnership Preferences
Have a candid tête-à-tête with your client to understand whether they wish to run through every point of the strategy, or simply want you to deliver the results. Also see, if they have ongoing relationships with content writers, marketers or website designers that they would want you to work with. Let them know how this would help or hinder your planning and execution processes. More often than not, this will help you and your client to build a lasting understanding.
This is an approach that is more likely to lead to knowledge and actual optimization, as opposed to finding ways to manipulate the KPIs while losing sight of the long-term impact.
10. Know your target audience and their online patterns. Set objectives
Obviously the purpose of SEO is about ranking well in the search engines to drive traffic to your website, but even that won't mean much if your website is showing up in front of an audience that doesn't care. The first thing you should always do is identify your target audience and learn all you can about them–demographics, search patters and preferences, geographic location, etc. A good way to do this is by diving into your Google Analytics account.
Once you have defined your audience, you will want to set objectives based on that audience. What is it that you want your audience to do on your website? What is the best way to get there based on your audience's information? Without a clear set of objectives, you could be performing a great deal of work without getting your desired results.
11. Categorize your keyword research
Based on your analysis of the type of audience you are wanting to target, you then need to perform keyword research. Deciding what keywords you should or shouldn't target can make or break your strategy. Create an excel sheet that breaks up your keyword categories based off of your target audience personas, how your website might be sectioned, or even a mixture of both (persona groups with keyword subsections for each). Once you have an excel sheet created, you can start using the Google Keyword Planner to research keywords and plug them into your excel sheet accordingly. You will want to record keywords and search volume on your excel sheet. I highly recommend checking out this article from Moz for a more detailed description of categorizing keywords.
12. On-Page SEO and Site Structure
On-Page SEO is vital in helping the search engines understand what your website is about. The first step is making sure the search engines can crawl your website and find all of your valuable content. To do this you need to ensure your site has good internal linking with no broken links, good navigation, unique content, and appropriate page load-times.
Your keyword research will also come in handy here because they will help you optimize your content. It is important to build specific pages around keyword focused themes because it provides the search engines a clear understanding of what each page is about. Trying to fit too many themes on a page will do more harm than good.
Remember: You don't want to stuff keywords or make them unnatural on your pages. Create your website and write your content as you normally would, just keep your keywords in the back of your mind.
13. Move on to off-page SEO including link building and making connections
Links are one of the primary factors in how a search engine ranks websites. Thus crafting a link building plan around all the different tactics you can do to attract inbound links to your site is very important.
As for link building, the best thing you can do is try to earn links naturally. Making connections in your industry and with your target audience is a great way to improve your brand's image as well as improve off-page SEO. The more people that know about you, the more people are likely to link back to your website; thus improving your SEO. Google has actually started rewarding sites for their popularity and connections with authoritative sites. Other great methods would be: creating great content, requesting links from affiliated associations/organizations, and outreach to websites that are an authority in your industry.
14. Monitor and track your data and results
Knowing what is working and what isn't is extremely important. The sooner you can get a system in place to track your data and results, the better.
Setup a Google Analytics account to monitor organic traffic on a daily, weekly, monthly basis.
Create a spreadsheet to track the on-page changes you make to your site so you can see what changes led to certain results.
Utilize a rank tracking service/software to monitor search positions over time.